The Falmouth Distilling Co.
Two chefs, a scientist and a distillery on the Cornish coast. The idea of working together to create a distillery had been brewing for some time, and as it happens, the upheaval of lockdown during the summer madness that was 2020 was just what needed to galvanise us into action.
The three of us have known each other for god knows how many years, and it's safe to say our distillery is making thorough good use of our shared knowledge and experience in food preparation, recipe development, food science, alcohol production and design.
The goal? To create spirits with a meticulous eye on craftmanship and flavour, inspired by the sea, landscape, vibrancy and history of Falmouth, this brilliant place we call home.
We are proudly launching our first offering in spring 2021: Loveday Falmouth Dry, a carefully crafted small batch gin, distilled with fresh botanicals, to celebrate the coastline that's so integral to where we live and work
Read more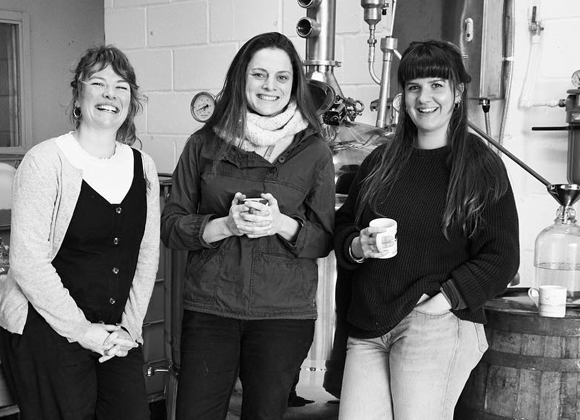 MEET THE MAKER
Ruth, Daisy + Chloe
Ruth's route to distilling came via work as a production scientist at Cadbury, Heineken and St. Austell Brewery. Her extensive experience in alcohol production, commercial quality control, and all things spreadsheets rather nicely compliments Daisy and Chloe's practical experience in making things that taste delicious.
Daisy heads up a hugely popular garden café in Cornwall after cutting her teeth at Le Cordon Bleu and in fine dining restaurants, while Chloe brings to the party a decade of cooking, recipe development and hospitality experience, alongside a background in art and design.
Our Story
British. Not Brit-ish. Meeting the H+S Standard.
All our partners agree to adhere to and uphold these standards for all products. If a product doesn't meet the Standard, it's not listed. Simple.
Ethical
We're proud to uphold the reputation for quality and ethical standards that 'British Made' implies.
Sustainable
We get really excited when our makers have sustainability at their heart. We love things that are made to last.
Support local
We are here to support our community. We reinvest back into the business so we can assist collaborations and keep telling our maker's stories.