Spritzblue was born from a love of receiving a beautiful handwritten note, whatever the occasion. The thought behind a simple gift, a lunch with girlfriends, a delicious dinner or a weekend away deserves appreciation. And when you're taking the time to write, it's so much better on a gorgeous card. All our stationery is printed locally to our West Sussex studio, on fully sustainable card manufactured in the UK.
Read more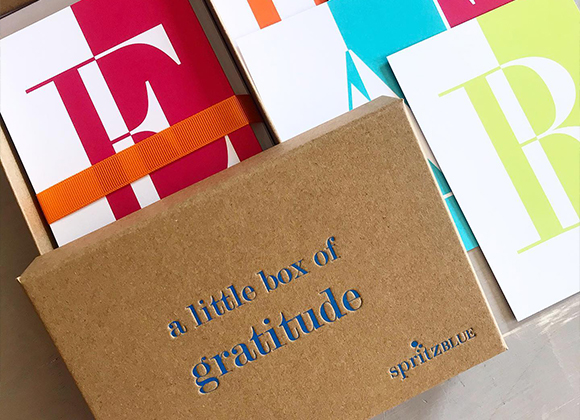 MEET THE MAKER
Claire Aston
When I set up Spritzblue, it was with the aim of designing bold and beautiful stationery. But the design was only the half of it. I wanted to print my stationery on the thickest material possible. Because there's nothing quite like the feel and texture of exceptional paper.
We had moved back to the UK from Amsterdam, where there was no shortage of extraordinarily gorgeous stationery - I could spend hours in one of my favourite shops, the fabulously named Posthumuswinkel, with its mesmerising displays and shelves of inks, stamps and paper. I was like a child in a sweet shop, and I've still yet to find anywhere quite like it here. From our new home in West Sussex there was nowhere local to find anything that came remotely close. When in London, I'd nip to Selfridges and Liberty, and buy up arm loads of stationery boxes and brightly designed cards – some of which were even too nice to send. A full stationery drawer is a wonderful thing!
Our Story
British. Not Brit-ish. Meeting the H+S Standard.
All our partners agree to adhere to and uphold these standards for all products. If a product doesn't meet the Standard, it's not listed. Simple.
Ethical
We're proud to uphold the reputation for quality and ethical standards that 'British Made' implies.
Sustainable
We get really excited when our makers have sustainability at their heart. We love things that are made to last.
Support local
We are here to support our community. We reinvest back into the business so we can assist collaborations and keep telling our maker's stories.