Educational, creative – and fun!
Playpress is about exploring new possibilities. We take care to make our toys inclusive. They're designed to let children play creatively while helping them develop key motor and cognitive reasoning skills.
Sustainability and quality
We don't think that quality toys need to cost the earth. That's why we put care into every part of our product, from the sourcing of our materials through to responsible manufacturing and design.
Printing & binding
We use food-safe water-based inks and glue that are vegan, biodegradable and ocean-friendly.
Board & paper
The fibres for our Playboard are bleach-free and sourced from sustainably managed forests in Finland.
Manufacturing & transport
Our toys confirm to European standards and are locally manufactured in the UK to minimise air miles.
Read more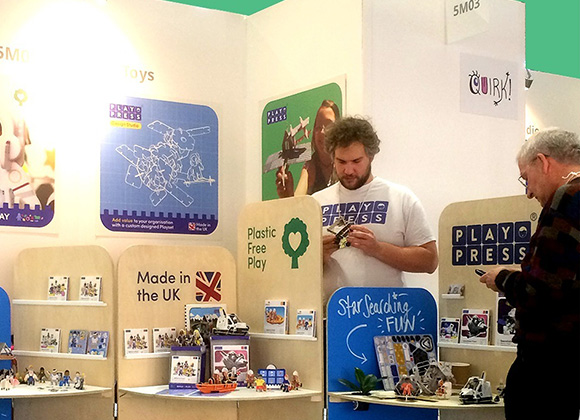 MEET THE MAKER
Melvin Wright
As a child I loved playing with Playmobil and Lego. As I thought back to that time, I wondered if I could make a buildable toy with which you could create worlds and stories, but which was designed to be less harmful to the planet and more affordable.
I spent many hours trying different shapes and materials, taking inspiration from wooden model kits. I decided to make the pieces interconnectable offering the same kind of play experience but at a much lower cost and made out of natural materials.
I teamed up with my older brother Peter who, with his design talent and experience, helped develop the concept to where we could take it to market, and Playpress was born.
Our Story
British. Not Brit-ish. Meeting the H+S Standard.
All our partners agree to adhere to and uphold these standards for all products. If a product doesn't meet the Standard, it's not listed. Simple.
Ethical
We're proud to uphold the reputation for quality and ethical standards that 'British Made' implies.
Sustainable
We get really excited when our makers have sustainability at their heart. We love things that are made to last.
Support local
We are here to support our community. We reinvest back into the business so we can assist collaborations and keep telling our maker's stories.