Liz Waterhouse Art - Elizabeth Waterhouse
Beautiful Monochrome Prints of intricately drawn birds using Biro.

Waterhouse works in a variety of mediums including drawing, painting, collage, sculpture and installation. Her main focus in recent years has been in the detailed drawing of birds using biro. Her interest lies not only in the detail of a single bird but the form that can be created by grouping them together.
Waterhouse has shown in a selection of venues all over the UK and internationally including Venice, Colorado (USA) and more recently in Berlin.
Read more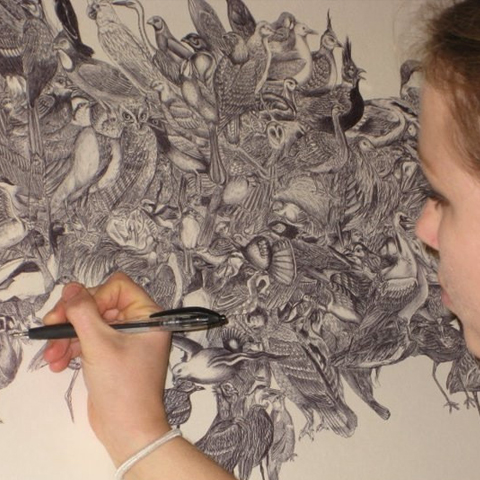 Meet the Maker
Elizabeth Waterhouse
Liz Waterhouse was born in Worcestershire, England and studied at Worcester Collage of Art and Design before relocating to Cardiff in 1999.
After completing a BA (hons) Fine Art and MA Fine Art at the University of Wales Institute, Cardiff (UWIC) Waterhouse went on to study for an MA in Arts and Health at Glamorgan University, graduating in 2012.
Waterhouse moved to Pembrokeshire in 2016 after spending much of her childhood in the area only recently returning to Worcestershire to be near family, always maintaining strong links with Wales.
Our Story
British. Not Brit-ish. Meeting the H+S Standard.
All our partners agree to adhere to and uphold these standards for all products. If a product doesn't meet the Standard, it's not listed. Simple.
Ethical
We're proud to uphold the reputation for quality and ethical standards that 'British Made' implies.
Sustainable
We get really excited when our makers have sustainability at their heart. We love things that are made to last.
Support local
We are here to support our community. We reinvest back into the business so we can assist collaborations and keep telling our maker's stories.