Knitluxe Studio is a British design studio, creating sophisticated yet playful sports luxe clothing, accessories and gifts using ethically sourced and sustainable luxury yarns.
Knitluxe Studio aims to challenge and transform the perception of knitted textiles while retaining craftsmanship, traditional techniques mixed with modern contemporary knitwear designs. It is designed to make the wearer feel unique, with maximising the natural performance properties of wool.
All the accessories and gifts range are created with the highest quality Supergeelong Lambswool, initially for sustainable reasons however as wool has many natural benefits and it is one of the world's most technically advanced fibre and works in total harmony with the wearer's body.
Every piece is created and constructed by hand on a 12gg vintage knitting machine and hand finished to the highest standard. We are committed to sustainability and only selecting traceable luxury yarns to encourage ethical practice, lifestyle and to ensure quality.
Read more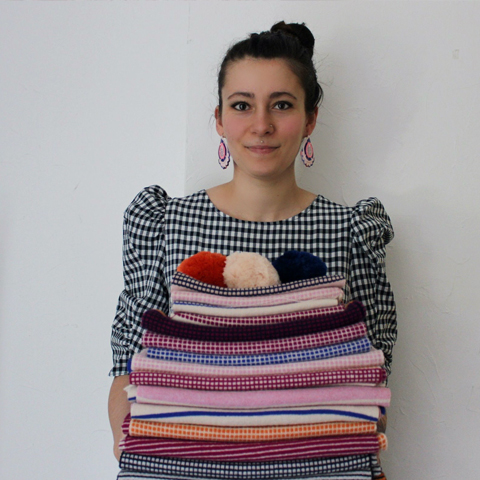 Meet the Maker
Szilvia Burrows
Szilvia Burrows is an award-winning textile designer specialising in knitwear, located in Buckinghamshire, England.
Originally from Budapest, Hungary, Szilvia moved to the UK in 2009 to complete her college course in Art and Design and went on to complete her degree in Buckinghamshire New University to pursue her dream to be a designer and in 2017 she graduated with First Class Honours and was awarded first prize of the Hill Osborne Bursary by the Worshipful Company of Framework Knitters the same year.
In response to her research and passion for Activewear Fashion, she decided to pursue her own vision to create reimagined, sophisticated yet practical sports luxe products.
Our Story
British. Not Brit-ish. Meeting the H+S Standard.
All our partners agree to adhere to and uphold these standards for all products. If a product doesn't meet the Standard, it's not listed. Simple.
Ethical
We're proud to uphold the reputation for quality and ethical standards that 'British Made' implies.
Sustainable
We get really excited when our makers have sustainability at their heart. We love things that are made to last.
Support local
We are here to support our community. We reinvest back into the business so we can assist collaborations and keep telling our maker's stories.