At Katie Walker Furniture we are uncompromising. Uncompromising in our commitment to quality and the very best in both form and function. We are dedicated to collaborating with artisans to bring beauty and design to your everyday environment.

From our iconic Ribbon and Windsor rockers, through to witty pieces such as the Weight & See Mirror or the geometrical lines of the Hoop Chair, our passion is to make something that you will love.

Our designs sometimes take inspiration from the past, other times the present but they are always classics with a timeless appeal.

We are often influenced by art and our work aims to surprise and entertain. The Ribbon Rocker is a classic example of this. Inspired by Naum Gabo's sculpture 'spheric theme', its structure is made from one continuous piece and the effect is a fluid form, which appears to be floating on air. Look more closely though and you will see that it is a rigid chair of great strength.
Read more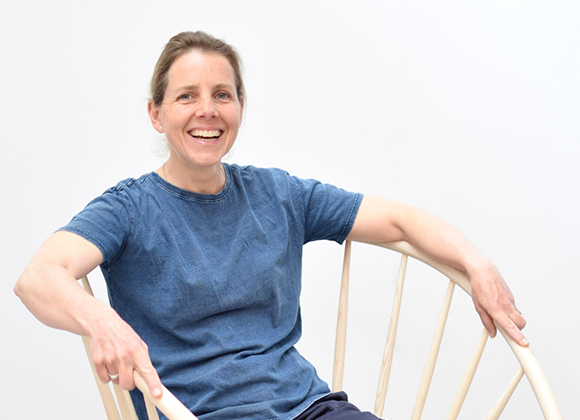 MEET THE MAKER
Katie Walker
With a background in fine art, I set out to design furniture that has a timeless and iconic aesthetic.
Each piece in my collection is designed to raise a smile and bring pleasure to the end user. By crafting and marrying form and tension, I aim to produce sculptural and user friendly furniture that can be enjoyed and handed down the generations.
Our Story
British. Not Brit-ish. Meeting the H+S Standard.
All our partners agree to adhere to and uphold these standards for all products. If a product doesn't meet the Standard, it's not listed. Simple.
Ethical
We're proud to uphold the reputation for quality and ethical standards that 'British Made' implies.
Sustainable
We get really excited when our makers have sustainability at their heart. We love things that are made to last.
Support local
We are here to support our community. We reinvest back into the business so we can assist collaborations and keep telling our maker's stories.