The footwear industry is flawed and we want to change it
The footwear market is flooded with poorly made, mass produced throwaway shoes. This doesn't sit right with us. So we're doing what we can, leveraging our use of in-house production, to change this and offer high quality footwear that is kind to both your feet and the planet.
In-house production, start to finish
Every pair of GORAL shoes are handcrafted in our family owned workshop. This means we can guarantee high quality craftsmanship every time. We also make each pair to order and ship it direct from us to you. This reduces waste and means we don't have middlemen bumping up the price.
Read more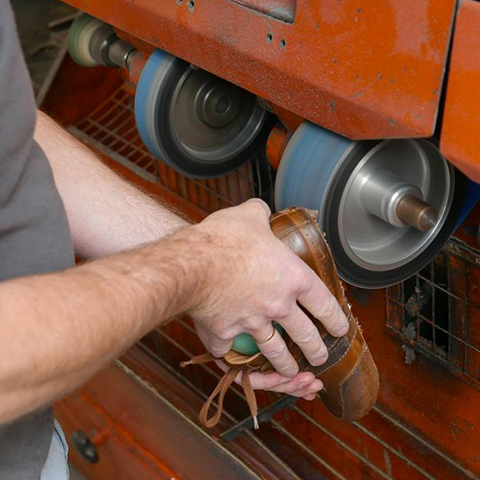 Meet the Maker
Bogdan Goral
Nephew of the 2nd Generation director Czeslaw Goral, son of founder Franciszek, Bogdan followed in his family's footsteps working in the Goral & Son workshop from an early age.⁠
⁠Starting at 12 years old he got his first taste of the workshop life, helping out around the workshop, mainly cleaning and packing the shoes. Once he was old enough he moved on to an operative role, cutting his teeth on the more traditional dress shoes the company used to manufacture, gaining experience in each stage of the craftsmanship process. As time went on he worked his way up to a management position taking on more responsibility and becoming more involved in the running of the business.⁠
Bogdan showed a keener interest in shoemaking, and the business as whole, than his siblings and cousins, so when the time came for Czeslaw to retire he was the obvious successor. ⁠
After running the company in Poland for 3 decades, financial downturn and government restrictions on the industry pushed him to relocate the business or risk losing what his family had built. The decision was made to move to the UK where he could use his experience to open a shoe repair business with the aim of working to setting up as a manufacturer again once they had a foothold in the country.
The move was a success, the repair business began to thrive with Bogdan and eldest son Kamil manning the operation and undertaking the majority of the work as well. During this time Bogdan began to build a rapport with contacts in the UK and started to lay the foundations for reopening the manufacturing side of things.
Our Story
British. Not Brit-ish. Meeting the H+S Standard.
All our partners agree to adhere to and uphold these standards for all products. If a product doesn't meet the Standard, it's not listed. Simple.
Ethical
We're proud to uphold the reputation for quality and ethical standards that 'British Made' implies.
Sustainable
We get really excited when our makers have sustainability at their heart. We love things that are made to last.
Support local
We are here to support our community. We reinvest back into the business so we can assist collaborations and keep telling our maker's stories.