An independent home and garden company that is all about the celebration of the garden and our connection with the wider plant world. Combining small batch, British based manufacturing, along with traditional craft techniques, we make eco friendly gifts. Unique, ethical items for you, your home & garden.
Inspired by nature, bold, botanical inspired prints feature heavily on our deckchairs & garden chairs, while our eco friendly gift range acknowledges the power of plants to heal, restore and revitalise through plant based aromatherapy candles; natural skincare & tonics.
Read more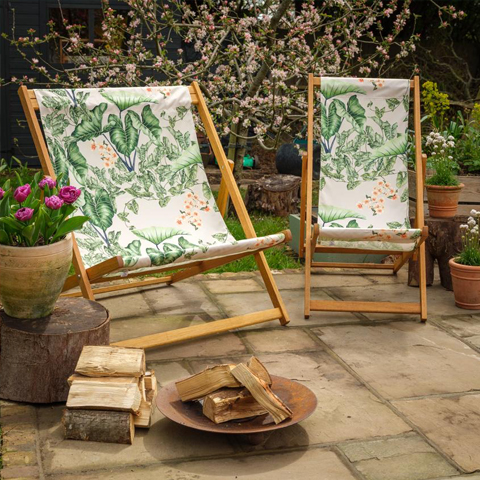 Meet the Maker
Elizabeth Ridgway
It all began with a search for the perfect garden furniture. Two searches in fact, by two garden loving sisters (Liz & Cat) in two very different homes; one bijou city garden and the other a country cottage affair. Nothing quite hit the mark. And so a seedling of an idea was born.
The grand plan was to create a range of unashamedly joyful, eco friendly gifts made for and by, the garden. A touch nostalgic. Revitalising, but fun. A tonic. Something to enjoy inside and outdoors. Because, after all, we live in the UK. And wall to wall sunshine is definitely not 'a thing'...
Above all, and whatever the weather, we wanted to make the time you spend at home, and outside in the garden, to feel special: the perfect pick-me-up after a hard day's graft at the office. With minimal cost to the environment.
After a short time, Cat decided to focus on the area she loves – interiors and now has built up a beautiful little business making curtains, blinds and soft furnishings which you can find here. Liz continues to run Denys & Fielding and it remains very much a family affair. Literally, it's all hands on deck when it comes to packing orders ( in fully recyclable packaging ), delivering hire deckchairs to weddings etc...! But we love it. And hope you do, too.
Our Story
British. Not Brit-ish. Meeting the H+S Standard.
All our partners agree to adhere to and uphold these standards for all products. If a product doesn't meet the Standard, it's not listed. Simple.
Ethical
We're proud to uphold the reputation for quality and ethical standards that 'British Made' implies.
Sustainable
We get really excited when our makers have sustainability at their heart. We love things that are made to last.
Support local
We are here to support our community. We reinvest back into the business so we can assist collaborations and keep telling our maker's stories.