Caitlin Evans is a Textile Print Designer based in London. She sells a range of uplifting textile products for interiors. All the pattern designs are hand painted by Caitlin and then digitally printed onto luxurious fabrics such as silks. From being brought up in North Devon Caitlin has a passion for nature. This interest in nature is influential in her work, with a particular focus on florals. The brand focuses on creating stunning textile products that celebrates nature by bringing the beauty of the outside into the home.

From living in a natural environment for many years Caitlin has a passion for sustainability. There is a huge focus on all products being made in the UK. All the fabrics are printed in the UK using dyes that are certified as Azo dye free and all the fabrics are sourced from UK mills. Where possible natural fabrics are used such as, silks, cotton velvet and eco cottons. Caitlin's products challenge the throwaway society that we currently live in. The concept of the products is that people purchase beautiful and eye-catching products that they cherish in their homes with the idea that it will last and be treasured.
Read more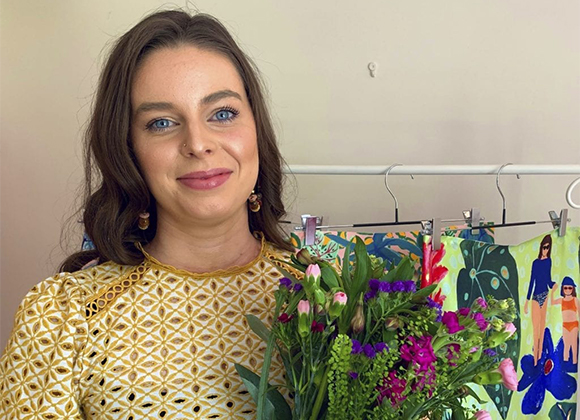 MEET THE MAKER
Caitlin Evans
I was brought up in the North Devon countryside, so I have an interest in nature and landscapes. This interest in nature is often influential in my work, with a particular focus on florals. From living in a natural environment for many years I have a passion for sustainability, therefore I try to use as little plastic as possible in my products and the packaging that they arrive in.
From an early age, I have been interested in photography. Therefore, I often start my work process by gathering primary research by taking photographs and producing quick on-location sketches. These sketches are then developed into developmental drawings using a range of different media including acrylic paints, drawing inks and pen drawings. These drawings are then scanned into Adobe Photoshop and edited to create digital designs, keeping all the gorgeous the painterly textures.
Our Story
British. Not Brit-ish. Meeting the H+S Standard.
All our partners agree to adhere to and uphold these standards for all products. If a product doesn't meet the Standard, it's not listed. Simple.
Ethical
We're proud to uphold the reputation for quality and ethical standards that 'British Made' implies.
Sustainable
We get really excited when our makers have sustainability at their heart. We love things that are made to last.
Support local
We are here to support our community. We reinvest back into the business so we can assist collaborations and keep telling our maker's stories.