Both Barrels is born out of over a decade of travel. In recent years travel has transformed beyond compare & continues to connect us physically, spiritually & emotionally. Our exclusively handmade in the UK range embodies diligent design, careful consideration of function & a sustainable approach to all aspects of design, development & low impact production.





The brand is founded on the principle of 'confidence in simplicity'. This revolves around insightful connections to travel behavior, dedication to the finest available materials & an uncompromising approach to quality. Our brands' guiding pillars are Innovation, Quality & Made in UK.
Our products are individually constructed & engineered to carry working lives as well as busy social & active lives too. With increasingly blurred edges between life & work, this is where our design-led approach helps to build product from the ground up into practical real-life solutions.
Our purpose is to create incredibly useful yet incredibly beautiful products. We exist to support the remaining high-quality UK supply chain both in raw materials & manufacturing. We also champion creative-led businesses & encourage problem-solvers to step forwards to help build a better world around us.
Read more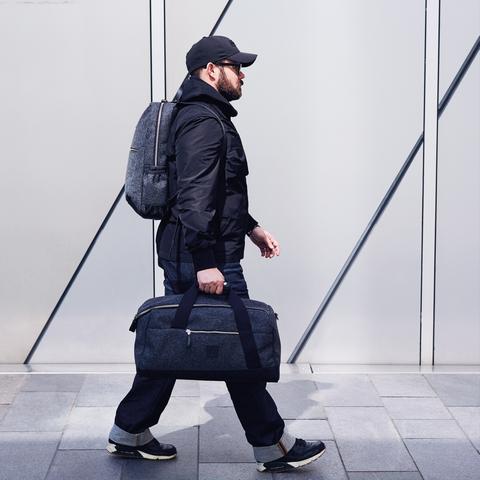 Meet the Maker
Mat Booth
Launched in November 2016 & founded by designer, developer & product nerd Mat Booth. Mat's career in product design & development spans over 15 years across apparel, accessories & equipment, chiefly in the performance sportswear market.
Having worked with more than 30 businesses, Both Barrels was born in parallel to a product design career & years of direct insight. The opportunity to create a meaningful UK brand, centred around fantastic purposeful product & a focus on supporting UK manufacturing has led to an incredible journey to date. This has included creating inspirational partnerships with North West universities, speaking at industry events, championing designers in to the business community & enjoying a direct, transparent connection to customers, suppliers & creative opportunities.
Our Story
British. Not Brit-ish. Meeting the H+S Standard.
All our partners agree to adhere to and uphold these standards for all products. If a product doesn't meet the Standard, it's not listed. Simple.
Ethical
We're proud to uphold the reputation for quality and ethical standards that 'British Made' implies.
Sustainable
We get really excited when our makers have sustainability at their heart. We love things that are made to last.
Support local
We are here to support our community. We reinvest back into the business so we can assist collaborations and keep telling our maker's stories.