Bluebell Vineyard Estates
Set amidst bluebell-strewn woods from which the vineyard derives its name, Bluebell Vineyard Estates is a family-run vineyard and winery with a passion for producing world class still and sparkling wines.
Established on the site of a former pig farm, the transition from swine to vine began as a hobby: the creation of a fine wine collection, an eye opening visit to Romaneé Conti in France and the belief that truly exceptional wines can be produced in England. The site, once home to thousands of Large Whites, Landrace and Blue Cross Pigs is now home to over 100,000 vines growing premium quality Chardonnay, Pinot Noir, and Pinot Meunier vines along with Seyval Blanc, Bacchus, Ortega, Chasselas and Merlot.
Since our first plantings in 2005, the vineyard has more than doubled in size and we now have nearly 100 acres under-vine stretching across East and West Sussex.
We craft our wines using the traditional method of production and we strive to produce wines with the perfect balance of fruit character, acidity and ageing. All Bluebell wines are vintage wines, that is to say they are made exclusively from grapes grown in a single year. This means that every Hindleap and Ashdown Vintage is unique.
Since our first commercial release from the 2007 vintage our wines have gone on to critical acclaim.
We believe our wines can rival the best in the world. And it's not just us who think so – our range of 'Hindleap' sparkling wines has been awarded over eighty national and international awards, confirming our reputation as one of England's leading producers.
Read more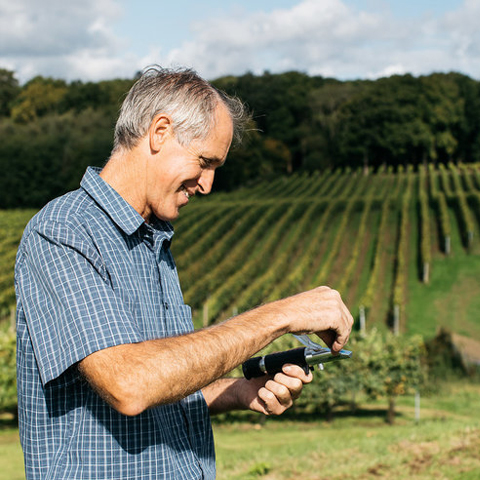 Meet the Maker
Kevin Sutherland
Kevin Sutherland is the wine-maker who presides over all these plans. Originally from New Zealand with a background in fruit-picking he pitched up in the UK in 1988 and hasn't looked back.
"I started over here picking soft fruit, plums and so on as I had back home, but then I began picking grapes and things just went on from there. I turned up at St George's Vineyard in Waldron, East Sussex for the harvest and stayed for nine years."
Kevin then moved on to Plumpton College as vineyard manager and instructor before becoming a consultant for Bluebell Vineyard when they started up and then going full-time with them.
If you ever thought that a wine-maker's job was easy – simply planting a few vines, waiting for the grapes to grow, squeezing them and then waiting to see what happens – then think again.
Our Story
British. Not Brit-ish. Meeting the H+S Standard.
All our partners agree to adhere to and uphold these standards for all products. If a product doesn't meet the Standard, it's not listed. Simple.
Ethical
We're proud to uphold the reputation for quality and ethical standards that 'British Made' implies.
Sustainable
We get really excited when our makers have sustainability at their heart. We love things that are made to last.
Support local
We are here to support our community. We reinvest back into the business so we can assist collaborations and keep telling our maker's stories.