Our handmade aprons are cut for cooks, designed to inspire and make you feel good.
We cut our aprons with tailoring skills and attention to detail. In place of a generic pattern, we design for both women and men, for comfort, functionality, beauty and durability.
Bird aprons are handmade in the UK. Bird directly supports the regeneration of British textile and fashion manufacturing jobs and apprenticeships. We source materials with care, locally when we can. Our brass eyelets and fabric labels are UK made.
We make with integrity to produce aprons that matter:
- Small collections avoid waste
- Our aprons are made to last
- We make with transparency
- We cut the air miles with UK production
- Our packaging comes with sustainability in mind - acid free tissue and paper postal bag. Even our business cards are made from recycled tees
Read more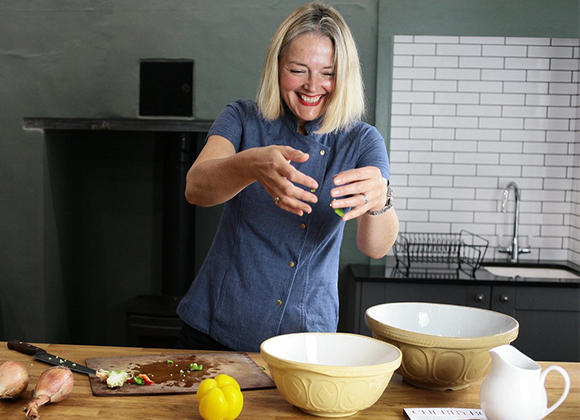 MEET THE MAKER
Vicky North
I'm Vicky North and here, from my home just a stones throw away from the river Teifi in west Wales, I launched Bird Kitchen Clothing back in 2019.
I'm a mum to two teens and have worked in food for ten years. I've written for magazines, delivered classes & demos and for two years had a cafe, which was a roller coaster ride.
In 2018, I wrote a Women in Food interview series which in turn, coupled with my own experiences, inspired me to launch Bird.
My vision for Bird was and remains this: to build a community for women in food, women who love to cook with resonance, meaning and passion. Food is our medium and Bird is our platform from which we can share our stories, ambitions or maybe just ask a question about how to nail that darn soufflé.
We make beautiful aprons. Designed from scratch by our Master pattern cutter, Nicola and handmade here in the U.K.
No corners cut because these are garments to invest in, to cherish and they will serve you well.
But above all, the aprons bring us together as a tribe of like minded women seeking like minded stuff and inspiring each other as we carve out our way.
You'll know if this resonates, if food is your language and Bird is your tribe.
And if you're feeling the buzz, I'm so happy you're here!
Our Story
British. Not Brit-ish. Meeting the H+S Standard.
All our partners agree to adhere to and uphold these standards for all products. If a product doesn't meet the Standard, it's not listed. Simple.
Ethical
We're proud to uphold the reputation for quality and ethical standards that 'British Made' implies.
Sustainable
We get really excited when our makers have sustainability at their heart. We love things that are made to last.
Support local
We are here to support our community. We reinvest back into the business so we can assist collaborations and keep telling our maker's stories.