Our approach is simple. Instead of creating products and then solving the problems that arise, we find an environmental or a social problem, and create a solution to it.
The problem that started it all was this:
The recycling industry doesn't recycle materials it can't sell. So people keep taking more and more from the planet instead of reusing what we already have—further contributing to the global environmental crisis.
We were horrified by this. The solution seemed obvious: let's get hold of what normally gets discarded, and make it into desirable things that people will want to wear every day.
And that's how BEEN London was born.
WE ASK QUESTIONS
How do you design products without creating more waste? How do you create something fashionable that doesn't age? How do you ship products without creating more emissions?
How do you employ people fairly while creating a product people can afford? How do you serve marginalised communities through your work?
We're proud to say we've found sustainable solutions to each of these problems, right the way through the supply chain.
Product image
WE SOURCE FOR MAXIMUM IMPACT
The global climate crisis is primarily driven by the relentless extraction of virgin materials. So we source materials destined for landfill and turn them into timeless, classic designs.
Discarded leather trimmings are reborn as premium totes and crossbodies. Landfill-bound plastics are revived as silky linings and zips. Pineapple leaves and apple peels are repurposed into vegan leather.
And every material we use is certified by a trusted global organisation.
WE DESIGN THOUGHTFULLY
We design with functionality and durability in mind. This means we don't follow trends and instead create timeless, trend-proof looks that work in all seasons, for all times. And yes, we add lots and lots of pockets.
Our design approach is zero waste. You may notice that our designs consist of only square and rectangular panels - this produces close to no waste at all.
We also start our design process asking questions about what happens to our bags at the very end of their life. This means that in addition to offering repairs, we strive for every part of the bag to be recyclable when it's no longer repairable.
WE COLLABORATE
We make everything locally, here in East London, to minimise carbon footprint and create the highest level of transparency.
We want to make sure every person involved in making our products is paid well and treated with respect, so we choose not to produce in far away countries where human rights violations are more widespread.
We're drawn to handcrafted, quality items made by real artists with generations of experience. So we found one of the last bag-makers in East London at the very beginning of our journey, and have been supporting each other ever since.
WE THINK ABOUT PLANET AND PEOPLE
We cut out the environmental impact of bricks and mortar shops, focusing on delivering our packages directly to you.
We ship our materials by sea to minimise the carbon footprint of transportation and support the re-forestation of the Amazon to help with carbon capture.
And our felt linings are made by people with a long-term history of unemployment.
WE INNOVATE
Industry-changing innovations are happening all over the world. We're always looking for new ways to give waste-bound materials a chance at a second life:
And we'll keep innovating, and partnering with innovators, as science develops new ways to improve industry practices.
Read more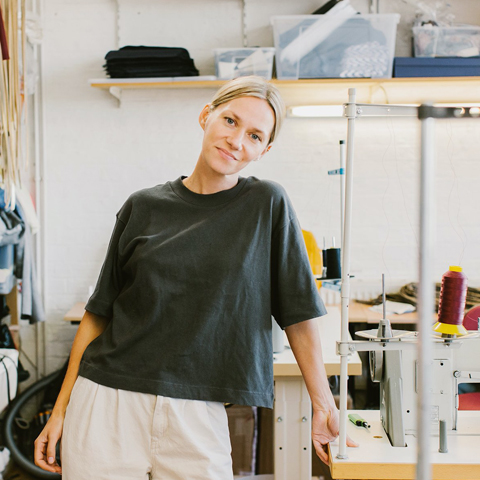 Meet the maker
Genia Mineeva
Founder Genia Mineeva started off as a political journalist, spending years working in the BBC newsroom. Her inquisitive nature took her into the world of campaigning, where she ran campaigns for the UN, Change.org and Natalia Vodianova's Naked Heart Foundation amongst others. But one story really got under her skin: coffee cup waste. How could these recyclable objects be wasted—simply because there was no market for the recycled material?
Genia dug deeper, studying Sustainable Value Chains at Cambridge University and discovering the untapped potential of innovative recycled materials rescued from landfill. There wasn't much of a 'market' yet for these recycled materials, especially premium, recycled leather. So she created one. And BEEN London was born.
Drawn to handcrafted, quality items made by real artists with generations of experience, her aim was to combine innovation with local skills and heritage. And after studying Accessories Design at London College of Fashion, and finding one of the last bag-makers in East London, the first BEEN London bag launched on Kickstarter.
Our Story
British. Not Brit-ish. Meeting the H+S Standard.
All our partners agree to adhere to and uphold these standards for all products. If a product doesn't meet the Standard, it's not listed. Simple.
Ethical
We're proud to uphold the reputation for quality and ethical standards that 'British Made' implies.
Sustainable
We get really excited when our makers have sustainability at their heart. We love things that are made to last.
Support local
We are here to support our community. We reinvest back into the business so we can assist collaborations and keep telling our maker's stories.