Beatrice Larkin is a textile designer based in East London. She specialises in woven textiles, accessories and interior products. Her fabrics are recognisable for their softened geometric patterns in a pared down colour palette, all woven in the UK from the finest merino wool.
Bea's hand drawn sketches run through all her woven designs. The marks made when she first put pen to paper are still noticeable in the finished fabric. The Jacquard loom allows her to create intricate patterns, picking up these inky lines and blotches, broken geometrics and blurred edges. The fabrics draw inspiration from traditional weave structures, grids and graphs, quilts, West African textiles, The Bauhaus and Brutalist architecture. Initial sketches are turned into weaves, playing with scale and repeat, focussing on the structure and design of the cloth in equal measure.
Production takes place in the North of England and Bea works with highly skilled manufacturers who understand the care and attention needed for the high-end textile market. The fabrics are woven in small runs at a jacquard mill in Lancashire and then washed and finished in the Yorkshire Dales. The Italian spun merino wool used in these fabrics is more commonly used in the fashion industry for high end knitwear and the fine, soft fibres of the merino sheep give a beautifully soft and luxurious handle.
Read more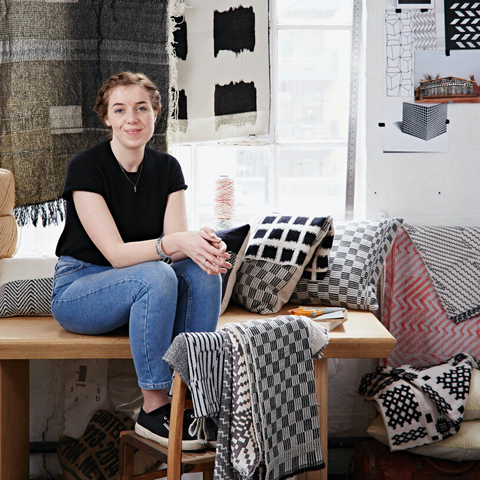 Meet the maker
Beatrice Larkin
Bea was fortunate to grow up surrounded by beautiful fabrics with both her parents working in the textile industry. This led her to study weave at Chelsea College of Art and Design, followed by a masters at the Royal College of Art. In 2017 she launched her first collection at Clerkenwell Design Week and has since grown her business, working with a number of well-known brands. She's sold to retail, interior designers, hotels and galleries as well as working on bespoke commissions and collaborations. Customers include Heal's, Daylesford Organic, Made, Studio Ashby, Conran and Partners, The Robin and Lucienne Day Foundation and The Tate Modern.
Our Story
British. Not Brit-ish. Meeting the H+S Standard.
All our partners agree to adhere to and uphold these standards for all products. If a product doesn't meet the Standard, it's not listed. Simple.
Ethical
We're proud to uphold the reputation for quality and ethical standards that 'British Made' implies.
Sustainable
We get really excited when our makers have sustainability at their heart. We love things that are made to last.
Support local
We are here to support our community. We reinvest back into the business so we can assist collaborations and keep telling our maker's stories.